UV-ENERGY/CURING SPEED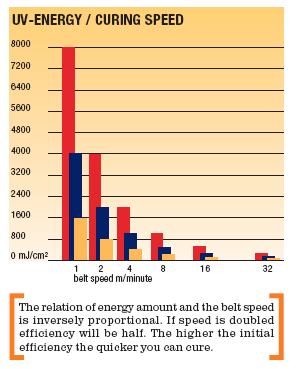 UV-curing Screen Printing Inks
In numbers:
Highly reactive inks for paper and common
plastics such as PVC, PS or PP
(pre-treated) require between 100 and
350 mJ/cm2 (Coates MLS, UVE, UVPO,
UVN).
Inks for PMMA, PC or coated surfaces
with higher resistances, e.g. for technical
applications, require between 350 and
1.000 mJ/cm2 (UVP).
For decoration of metals or glass, inks
with quite a high energy requirement are
processed. Depending on applications
energy requirement is between 1.000
and 3.000 mJ/cm2 (UVK, UVGL).

ENERGY REQUIREMENT OF UV-INK TYPES
Ink A > Paper / PVC / PC: 100- 200 mJ/cm2
Ink B > PVC / PS / PP: 200- 350 mJ/cm2
Ink C > PC / PMMA: 350- 500 mJ/cm2
Ink D > coated metals: 500-1000 mJ/cm2
Ink E > metals, glass: 1000-3000 mJ/cm2
UV or Not UV in ScreenPrinting Inks